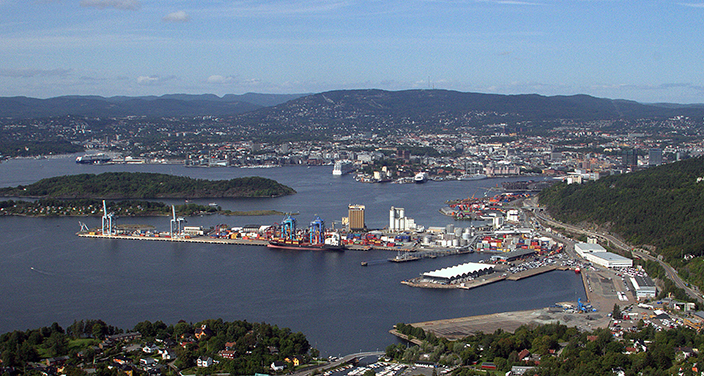 Oslo is the world's third best port city
Oslo is ranked number three among the world's leading port cities.
The ranking by 250 international maritime experts based on almost 50 indicators is performed on behalf of DNVGL in the report The leading maritime capitals of the world 2017.
Oslo is strong in maritime finance and law and technology. Oslo, Copenhagen, Singapore and London are also considered to be the best able to cope with the upcoming digital transformation in the maritime sector.

This ranking confirms Oslo as an important maritime city. The Oslo area's leading shipping, finance and maritime technology environments must take the credit, says Port Director of Oslo Ingvar M. Mathisen.
One of the world's leading shipping environments
- The background for the strong position among international maritime experts is the city's strong position as a global shipping center, said Mohd Shahrin Osman, Head of Digital Solutions and Advice in DNV GL Maritime in the Middle East to the Norwegian Maritime Press, Skipsrevyen.
- Although Oslo and Norway are small in the big world, we enjoy one of the world's leading shipping environments around us. This helps to maintain focus on Norway as a maritime nation. We have access to world-leading expertise and research environments, including environmental technology and professional operators who knows shipping, says port director Ingvar M.Mathisen.
Oslo port is strategically located as the gateway to the capital and Norway. Half of Norways citisens can be reached within a radius of three hours.
- Port of Oslo aims to be a pioneer port for modern and environmentally friendly maritime transport, for the benefit of business and consumers, the port director adds.
Oslo is equipped for the digital transformation
Digititalization is expected to be one of the major drivers for the development of the maritime sector in the future. The maritime experts predict that Oslo, Copenhagen and London and Singapore are the port cities best prepared for the digital shift.
- We focus on modernizing and digitalizing the port operations, and in coorporation with port operators adopt new technology. Port of Oslo has among other things one of the world's most modern container terminals, with advanced logistics systems and some of the world's quietest, zero-emission electrical cranes, says the port director.