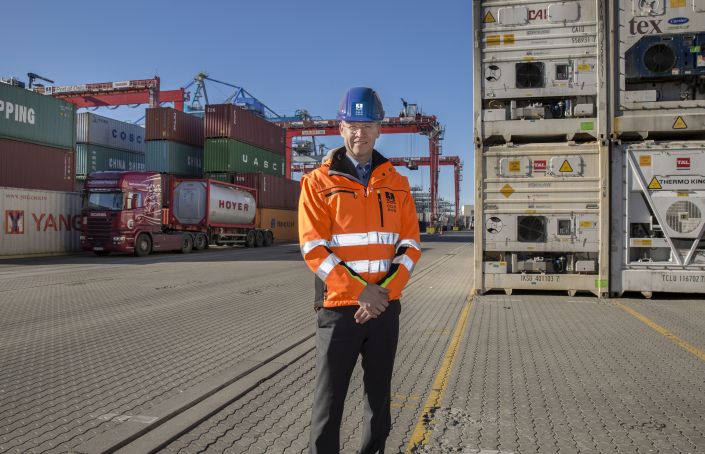 New, environmentally friendly line to port of Oslo
The shipping companies Viasea and Containerships has started a new weekly route from Klaipeda in Lithuania via Gdynia in Poland to Oslo.
"We are pleased that shipping companies have chosen the most cost-effective and environmentally friendly mode of transportation," says Ingvar M. Mathisen, Director of the Port of Oslo, KF (photo).
He thinks this is a win-win solution. - The Port of Oslo wants to attract 50 per cent more cargo to the port by 2030. At the same time, this will pay off to shipping companies. Increased maritime transport is important for reaching Oslo City Council's goal of a future zero-emission port, says the Director of the Port Authority, and indicates that a regular container ship sailing into Oslofjorden replaces 400 semi-trailers on the main road to Oslo.
Collaboration provides growth
Viasea and Containerships are both shortsea operators with emphasis on door to door services in Europe, but within each segment. By collaborating, they can develop services in new regions. A large amount of goods are moved from the Baltic to Norway. The shipping companies believe that freight shipping is proving to be less expensive and more environmentally friendly than other modes of transport.
"I wish to praise the work that the shipping companies and container operator YILPort Oslo have declined over time. The result is this new weekly route from the Baltic to Oslo port, "says Ingvar M. Mathisen, Director of the Port of Oslo.
"We are pleased with this contribution to the green shift. There is a significant volume from road to sea, and a good contribution to reaching the growth target Oslo City Council has set for us. We are in the process of having a highly competitive container terminal, "says chairman Roger Schjerva in the Port of Oslo.
Read more http://news.cision.com/no/containership/r/viasea-and-containerships-join-forces-on-a-new-route,c2447328