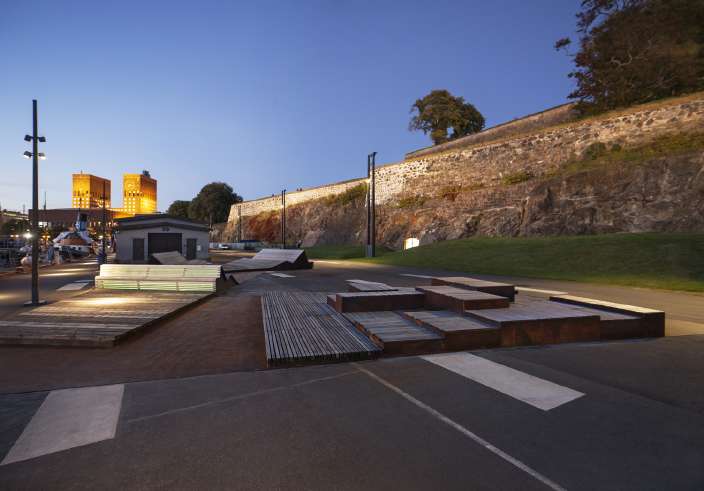 Oslo in ESPO competition
Oslo was in the finals in the competition for winning ESPO Award for the contribution to Oslos harbour promenade.
The winner of the competition was Guadeelope. Oslo was in a good company in the finals. The projects of the ports of Antwerp, Brest, Guadeloupe, Oslo and Venice was shortlisted for the ninth European Sea Ports Organisation (ESPO) Award on Societal Integration of Ports. The jury selected these five applications from a total of 13 submissions. The theme of this year's competition is '"Art and Cultural involvement of the port.
The Port of Oslo is proud to facilitate and to be an enthusiastic partner in transforming the Harbour Promenade. We take care of the history and embrace new development. Our port is at the heart of the city and as head of the Port of Oslo, I am thrilled to see the number of people who are frequenting and enjoying the atmosphere and the restaurants, and who participate in the activities, says Ingvar M. Mathisen, CEO of the Port of Oslo
Read the ESPO - interview and a presentation of the Port of Oslo and the harbour promenade.
The award goes to the port that succeeds best in societal integration of the port with the city or wider community in which they are located, through involvement in art or culture. The jury will assess the level of engagement of the port, the innovative character of the involvement and/or cooperation and will look into the impact of this involvement in terms of bringing the port closer to the citizens and the local community. The jury has not assessed the artistic value of the project.
"The jury was impressed by the diversity and depth of the submission and we were encouraged by the extent of the cultural policy consciousness of so many ports. We believe the five shortlisted nominees illustrate these qualities", said Pat Cox, Chairman of the ESPO award jury.