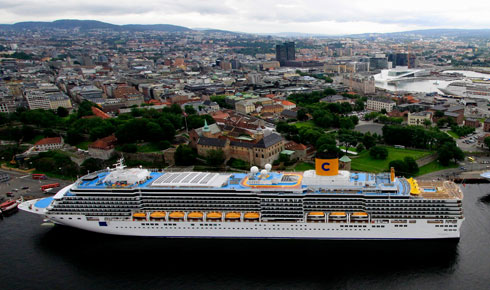 Facts
166 cruise calls are planned for Oslo in 2012
Season from April to December
173 cruise calls with 313,000 passengers in 2011
For tourist information: www.visitoslo.no
Oslo - a popular cruise destination
177 cruise calls are reported to Oslo in 2012. 
313,000 cruise passengers and 173 shipcalls visited Oslo last year, thats an increase of 20 percent from the year before.

Long cruise season
The cruise season expands. This year, the first cruise ship arrived April 3rd and the season does not end until the Christmas cruises leave Oslo in December.

Costa cancelling two calls after accident
The company Costa has cancelled two calls after the Costa Concordia accident, and plan for 29 calls to Oslo in 2012. Costa Magica has been moved from the northern waters of the Mediterranean to replace the sailing of Costa Concordia. Other locations in Norway are strongly affected. Bergen loses eight calls, Geiranger seven, and Stavanger loses five. Costa Magica is replaced with Costa neoRomantica to Oslo.

The Germans in the lead
Germans go on cruises to Oslo the most. The German cruise line AIDA, has a total of 34 calls in 2012. Passengers from the U.S. and the UK. are the two other groups in the lead.

Over-night calls
The trend of over-night calls continues. 21 ships will lie overnight in Oslo in 2012 . The ships arrive in the afternoon and leave in the afternoon the following day. This gives tourists the opportunity to visit several of our citys attractions.

Cruises from Oslo
RCCL is continuing its success of cruises out of Oslo. In May and June they will offer 5-9 nights cruises from Oslo to St. Petersburg, Tallin, Geiranger, Bergen, Amsterdam, Bruges, Liverpool and Edinburgh.

West coast and the Baltic States
Half of the ships arriving Oslo, are only visting the capital. The journey goes further out to the Baltic Sea with St. Petersburg as the great attraction. The other half of the ships are on their way to and from the Norwegian Fjords.

Full of life
Cruise ships make their mark on the capital. Some days as many as three or four ships are docked at the same time. Cruise passengers contribute to a vibrant life on the pier. Security gates at the port are opened as soon as the ship leaves in the afternoon.

The city benefits from cruise tourism
Cruise tourism affects the city's business community. In 2009, the cruise traffic generated about 405 million NOK - money spent by the cruise companies, passengers and crew.