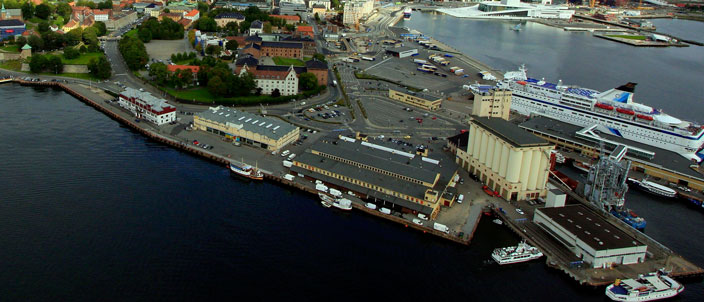 Fresh fish for everyone
During winter, The Royal Yacht K/S Norge, is berthed by herself at Vippetangen. In summertime Vippetangen springs to life with cruise passengers, island hoppers on their way to the boats or people just hoping to catch a fish.
The quays at Vippetangen are mainly used for cruise boats. From time to time a marine ship visiting Oslo might be berthed here. The administration of the Port of Oslo is located here.
At the break of dawn, the employees at Fiskehallen are out distributing fish to shops and restaurants in town. But some like to catch their own fish; people are lined up at Vippetangen and Akershusstranda from morning til night hoping that the fish will bite. Quite a few mackerels flop around down at Vippetangen during mackerel season.
International architects
Snøhetta is a renowned international architecture firm, known for designing The Oslo Opera House in Bjørvika. Snøhetta has a great view of the fjord from their offices in shed 39. Here, new projects are planned by architects from all over the world.
Grain for your daily bread
Locals may have noticed the silo down at Vippetangen before and not knew what it is for. Grain from Kazakhstan, The United States, Australia and Europe arrive here to be mixed into flour for delicious bread.