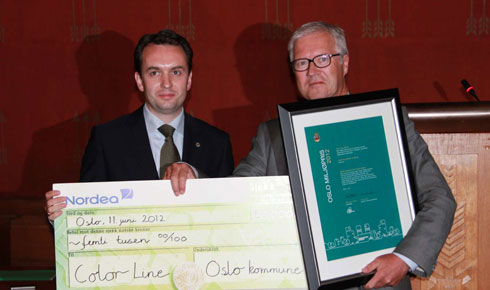 Facts
The City of Oslo awards the Urban Environment Prize of 2012 to Color Line
Their ships will run on shore based power while berthed in Oslo
Helge Otto Mathiesen from Color Line received the prize from Governing Mayor Stian Berger Røsland
Award for Color Line
Color Line's ships now run on clean energy while berthed in Oslo. For this they are awarded The City of Oslo's Urban Environment Prize 2012.
The City of Oslo awards the Urban Environment Prize each year to encourage innovative environmental thinking and action among Oslo's residents, municipal agencies, organisations and business community.
Color Magic and Color Fantasy go back and forth between Oslo and Kiel everyday. They are the very first ships in Norway to convert to shore-based energy. This reduces the greenhouse gas emissions by 3,000 ton a year, that is equvivalent to 1,700 cars. In addition are NOx emissions reduced by 50 ton each year.
The 10th largest hotel in Europe
"Now that Color Line's ferrys has installed a shore-based supply of electricity, they contribute to Oslo becoming a low emission city," commented Governing Mayor Stian Berger Røsland when he awarded Oslo miljøpris for 2012.
The ships that operate on the Oslo-Kiel service and are as large as Europes 10th biggest hotel.
"We are very lucky to be able to sail into town every day. We are grateful for this, but it also commit us to engage in the environmental work in Oslo," says Helge Otto Mathiesen, Director of Public Relations and Communications in Color Line.
Gave the prize money to youth
Color Line chose to give the prize money of 50,000 NOK on to Oslo KFUM and their sailboat Mohawk.
First in Norway – international standard
The solution chosen in Oslo has raised international attention.
"This is a great day for Norwegian shipping. Not only is this a national pioneer project, we have sat a standard internationally. This is huge," said a very pleased Helge Otto Mathiesen.
More shore based energy
"We want to congratulate Color Line for winning this award. Color Line has really made an effort to realize this project. They are a great example for other shipping companies. We continue our work to offer shore based power at the port," says Port Director Anne Sigrid Hamran.
Environmental responsibility
Color Line is Norway's largest and one of Europe's leading cruise and transport companies. The company has its head office in Oslo. In 2001, Color Line was awarded a Environmental Prize by the Port of Oslo.
The company has six ships that transport more than four million passengers, almost 990,000 cars and more than 170,000 trucks every year. Color Line has four international lines between seven ports in Norway, Germany, Denmark and Sweden.