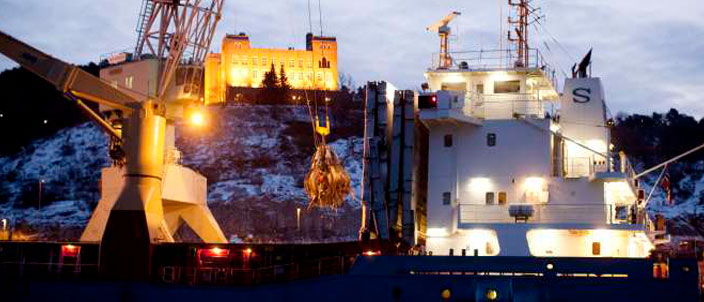 In all shapes and sizes
The Port of Oslo handles anything from scrap to house module constructions. Over 40,000 new cars arrives at the port each year.
Cars
Kneppeskjær pier has more than 40,000 incoming cars each year for excited new car owners. The import facilities of car importer, Møller Logistics (Harald Møller AS) lie here. They are Norway's largest car dealer of the brands Audi, Volkswagen and Skoda.

Paper, house module constructions and other general cargo
Norsteve is located at Filipstad Quay. It has three warehouses used for paper stock and other general cargo. They also handle house module constructions.

Coffee
At Filipstad Coop Norge and Joh. Johannson import more than half of the coffee in Norway. Here at Filipstad the coffee gets roasted and packaged. Before, coffee ships arrived directly from coffee exporting countries like Brazil and Colombia to Filipstad. Now the coffee beans come in containers to the container terminals in Sydhavna via major European ports such as Hamburg and Antwerp. The coffee is transported the last bit by car.

The Norwegian Coastal traffic
Nor Lines AS offers a complete system for transportation and logistics, and is one of the largest operators of freight transport on Europe's northern coastline.
5 of their total of 12 ships calls at Oslo, and connects the capital to the Norwegian coast with two weekly departures. Nor Lines has a terminal in Oslo in shed 97 at Kneppeskjær.

Scrap
Celsa Armeringsstål AS operates the efficient scrap iron terminal at Grønlia. Each week, two ships with scrap iron go from Oslo to Mo i Rana for remelting, and the iron comes back in the form of various products such as reinforcement steel and wire rod.