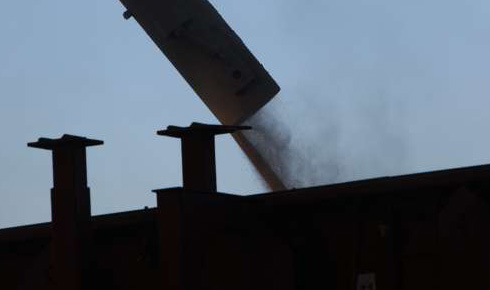 Facts
Dry bulk terminals in Oslo:
Salt, grain, fertilizers, cement and concrete
Terminals and silos at Sjursøya and Vippetangen
In silos and tanks
Grain, salt, cement and fertilizer make up the dry bulk products arriving the Port of Oslo.
Dry bulk cargo in Oslo is located on the north side of Sjursøya and Vippetangen. These are the companies that handle dry bulk in the Port of Oslo.

Concrete
Scandinavia's largest producer of ready mixed concrete, Unicon is located at Sjursøya north.

Cement
Cemex is one of the largest importers of cement in bulk to Norway. They are located on the northern Kongshavn.

Norcem AS develops, manufactures, markets and sells all types of cement for the building, construction and oil -industry in Norway. Norcem AS is the sole producer of cement in Norway. From their storage silo at Sjursøya they deliver the cement in bulk to their carriers and customers. At Sjursøya, Norcem is situated in shed 78 and 79 with four employees.

Salt
At Sjursøya the company G.C. Rieber Salt AS imports 90 percent of all salt sold in grocery stores, but it is only a fracture of the amount of salt the company handles in a year. Rieber Salt has several locations in the country, one million tons of salt are used in Norway every year. G.C. Rieber Salt AS has about 45 employees nationwide, 15 of them work at the Port of Oslo.

Salt for food, plastics and roads
Salt is not extracted in Norway, so all the salt in the country is imported. Salt is used in many ways. Salt in food is the most obvious in addition to the salt used on roads during winter. A large part of the salt is used in animal food and in the metal industry. Over half of the salt is used for plastic production.

Grain
Strand Unikorn AS imports grain from all over the world to its two silos in Oslo. The silo at Sjursøya get grain feed for animals, while the grain used to make bread goes to the silo at Vippetangen. About 20,000 tons of grain arrive at the Port of Oslo annually.

Fertilizers
I/S Felleslager ANS imports fertilizer in bulk, packs it into large bulk bags and sells it to customers in Southern and EasternNorway. The company is owned by Yara Norway and the Farmers Agri, and has its office at shed 82 at Sjursøya.